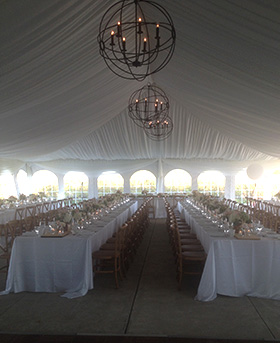 There's nothing quite like a wedding reception in a tent, with its uniquely informal atmosphere, customized decor and proximity to the outdoors and its natural beauty.
One of the nicest things about tent receptions is the creative possibilities they enable. Unlike the typical reception hall, a tent is indeed like a blank slate upon which you can build your own world, creating exactly the atmosphere you desire for your grand celebration. This not only makes your reception more memorable for you and your guests, but also makes possible a unique and powerful set of visual elements that will translate to beautiful photographic memories.
Let the wonders of nature be your backdrop. Whether it is rolling valleys, floral gardens, a pond or lake, these settings are natural and you don't have to create it yourself which will save money on your wedding budget.
Niagara Tents and Events can help you with the planning process and help you visualize how your wedding day will look with our industry specific CAD software.
Customer Testimonials