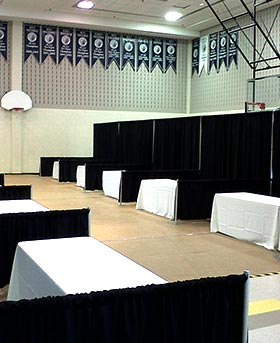 There are many variations of tradeshows and expos. Whether your event is a large scale tradeshow of 150 vendor booths or an intimate 10 vendor booth show, we can help. There expos that have vendor booths, presentations, displays, seminars or entertainment; we can help. Niagara Tents and Events has pipe and drape to build your vendor booths along withtables, tablecloths, chairs, carpeting, stages, podiums, P.A. systems and just about anything else you need for your tradeshow or expo.
We carry premier draping in 3', 8' and 12' heights. Besides vendor booths, we can install runs of pipe and drape to block out unsightly areas, cordon off areas or whatever your needs may be.
Niagara Tents and Events can help our clients plan their event with our industry specific CAD software. This aids in using the space available to its fullest advantage. If you are planning a tradeshow or expo, give us a call or email us at contact@niagaratents.com.
Customer Testimonials