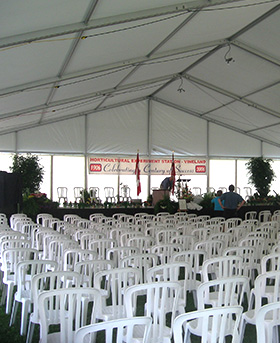 When planning a corporate event you may want to try something different than the standard luncheon or presentation. Having all or portions of your event outside can be very welcome for the attendees who in most cases work indoors.
You may only need one tent if you are hosting a dinner, luncheon or meeting, but a full scale conference will likely require additional breakout rooms and an exhibition space. You won't be able to measure costs until you define how much space you need. For conferences, the best approach is to plan a mock itinerary in your very first meeting. Sharing ideas and piecing them together on paper will help steer you through the next planning decisions. We have loads of experience in supplying corporate event planners needs and we can do this for you too.
Niagara Tents and Events is "more than just tents" as we can supply your corporate event with tradeshow booths, tables, chairs, stages, wheelchair ramps and much more.
Customer Testimonials